Music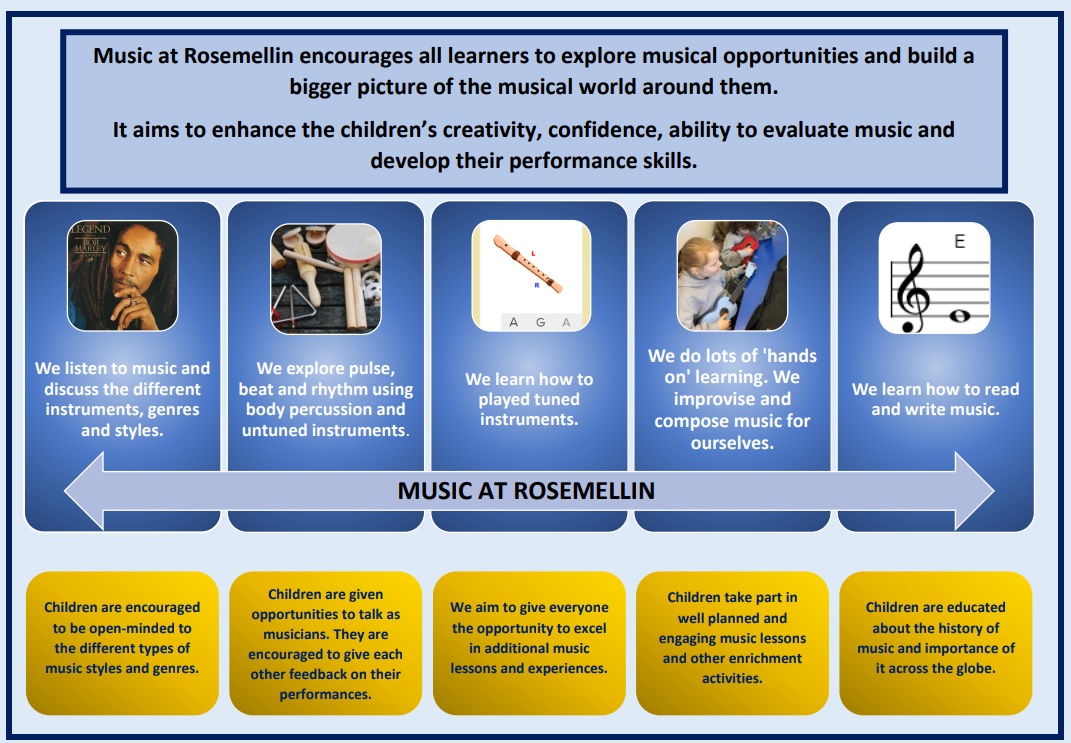 Vision and Principle
Children use music to help maintain emotional and social well-being and celebrate culture and community in ways which involve entertaining or understanding themselves and making sense of the world around them. Children should develop their understanding, make musical judgements, apply their new learning, develop their aural memory, express themselves physically, emotionally and through discussion and create their own musical ideas.
Music is all around us. Is it the soundtrack to our lives? Music connects us through people and places in our ever-changing word. It is creative, collaborative, celebratory and challenging. In our schools, music can bring communities together through the shared endeavour of whole-school singing, ensemble playing, experimenting with the creative process and, through the love of listening to friends and fellow pupils, performing. The sheer joy of music can feed the soul of a school community, enriching each student while strengthening the shared bonds of support and trust which make a great school. 'The Power of Music – Model Music Curriculum'
Intent
Our intention for music at Rosemellin is to provide children with the opportunities to express themselves through music and have an awareness of music around the world. Through an exciting and progressive scheme of learning (Charanga), the children will develop an understanding of the history of music, genres, styles, traditions, music across a range of historical periods and work of famous composers and musicians.
Music promotes diversity and is a great tool to help express personal, emotional, social and cultural identity, which in turn helps raise awareness of the world around them. Children will become musicians who are able to create and perform their musical knowledge and share enjoyment in this experience with their peers.
We believe in the importance of music being all around us, and that Rosemellin children will receive the best learning through practical experiences where they can freely explore a variety of instruments and styles of music. Our music curriculum will provide opportunities to develop individuals as performers, song makers, composers, improvisers and listeners.
Music Curriculum Overview
Year 1
Year 2
Year 3
Year 4
Year 5
Year 6
Aims:
KS1 curriculum aims

·         Use their voices expressively and creatively by singing songs and speaking chants and rhymes;

·         Play tuned and untuned instruments;

·         Listen to a range of high-quality live/recorded music;

·         Experiment with, create, select and combine sounds.

KS2 curriculum aims

·         Play and perform in solo and ensemble contexts, using their voices and instruments with increasing accuracy, fluency, control and expression;

·         Improvise and compose music;

·         Listen to music and recall sounds with increasing aural memory;

·         Understand and use musical notations;

·         Appreciate and understand music draw from different traditions and from great composers/musicians;

·         Develop an understanding of the history of music.

Autumn1
Where in the world am I?

Unit 1 Ourselves

Musical focus: Exploring sounds

A world of water

Book 6-7years out of stock.

Temporary guide:

Unit 12 Water (from yr1 scheme)

Musical focus: Pitch

Surviving the Sahara

Unit 1 Environment

Musical focus: Composition

Rainforests

Unit 4 Recycling

Musical focus: Structure

Energy and sustainability

 

Unit 5 At The Movies

Musical focus: Composition

Where did the ice go?

Unit 1 World Unite

Musical focus: Step dance performance

Autumn 2
Dinosaur Discovery

Unit 3 Animals

Musical focus: Pitch

Great explorers

Book 6-7years out of stock.

Temporary guide:

Unit 1 Environment (from yr3 scheme)

Use small steps to link to topic

Musical focus: Composition

Howard Carter and Ancient Egypt

Unit 11 Ancient Worlds

Musical focus: Structure

Marvellous Mayans

Unit 8 Singing Spanish

Musical focus: Pitch

Battle of Britain

Unit 5 At The Movies

Musical focus: Composition

Heroic Age of Antarctic Exploration

Unit 1 World Unite

Musical focus: Step dance performance

Spring 1
Celebrating Cornwall

Unit 11 Travel

Musical focus: Performance

An island home

tbc

North America

Unit 12 Food and Drink

Musical focus: Performance

London our capital

Unit 5 Building

Musical focus: Beat

Galapagos

Unit 4 Keeping Healthy

Musical focus: Beat

Sustaining our planet

Unit 2 Solar System (from Yr5 scheme)

Musical focus: Listening

Spring 2
Kings, Queens and Cornish Saints

Unit 10 Our Bodies

Musical focus: Beat

Disaster at sea

tbc

Stone Age to Iron Age

Unit 7 In the past

Musical focus: Pitch

Vikings and Anglo-Saxons

Unit 3 Sounds

Musical focus: Exploring sounds

Atlantic Slave Trade

Unit 4 Keeping Healthy

Musical focus: Beat

An Gof

Unit 2 Solar System (from Yr5 scheme)

Musical focus: Listening

Summer 1
Wonderful Weather

Unit 6 Seasons

Musical focus: Pitch

Does it snow in Africa?

tbc

Forests, people and change

Unit 3 Sounds

Musical focus: exploring sounds

Rivers and the water cycle

Unit 2 Environment

Musical focus: Composition

Lands of Fire and Ice

Unit 1 Our community

Musical focus: Performance

*First Access guitar lessons*

Get to know Greece

Unit 5 Class Awards

Musical focus: Awards show performance (first 3 sessions)

Summer 2
Seaside detectives

Unit 5 Machines

Musical focus: Beat

Cornwall's tropical gardens

tbc

What did the Romans do for us?

Unit 2 Building

Musical focus: Beat

 

Shipping, Trade and Traders

Unit 11 In The Past

Musical focus: Notation

Cousin Jack (local history)

Unit 1 Our community

Musical focus: Performance

*First Access guitar lessons*

Ancient Greece

BBC Ancient Greece resource

Musical focus: Listening, Performance, Composition